A Brief History of the American Academy of Otolaryngology-Head and Neck Surgery and its Foundation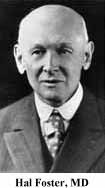 The American Academy of Otolaryngology--Head and Neck Surgery/Foundation traces its roots back to 1896. In that year, in response to an invitation by Dr. Hal Foster, a group of men practicing ophthalmology and/or otolaryngology in the central and southern part of the United States gathered in Kansas City. A two-day program of scientific papers was held followed by the formation of a new society, the Western Ophthalmological, Otological, Laryngological and Rhinological Association.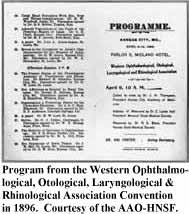 Over the next 82 years the Association changed its name twice. It also helped establish the first specialty boards in America. First was the American Board of Ophthalmology, created in 1917. In 1924 the American Board of Otolaryngology was established. In addition, the concept of formal instruction courses was introduced during the annual meetings of the Association. These innovations were pivotal factors in the development of continuing medical education in this country.
By 1978, the diverging interests of ophthalmology and otolaryngology had reached a stage where separation seemed inevitable. A planned and orderly separation of the Association was carried out with the formation of two new organizations--the American Academy of Ophthalmology and the American Academy of Otolaryngology.
In 1980, the American Academy of Otolaryngology added Head and Neck Surgery to its name to become the American Academy of Otolaryngology-Head and Neck Surgery (AAO-HNS). This name change reflected the expanded scope of the specialty from ears, nose, and throat to include the head and neck region-e.g. treatment of benign and malignant tumors, cosmetic and reconstructive facial plastic surgery, and upper respiratory allergy and immunology.
In the 1960s the federal government became a new presence in the practice of medicine, especially with the passage of Medicare in 1965. Socioeconomic changes created a need for national representation of the specialty in noneducational issues. In response, the American Council of Otolaryngology (ACO) was formed in 1968. However, the need for the specialty to speak with a single voice resulted in the 1982 merger of the AAO-HNS with the ACO.
The socioeconomic and government relations responsibilities of the Council are carried out by the Academy, and the educational responsibilities of the old Academy predecessor are now the task of the educational Foundation. Today, the American Academy of Otolaryngology-Head and Neck Surgery and its Foundation sponsor continuing medical education, professional meetings, new scientific research, and practice management guidance for more than 11,000 ear, nose, and throat specialists in the United States and abroad. The Academy also monitors all federal medical-related legislation and educates legislators and policy makers about the needs and concerns of otolaryngologists. The Foundation maintains both the John Q. Adams Center for the History of Otolaryngology-Head and Neck Surgery and the National Center for the Promotion of Research in Otolaryngology.